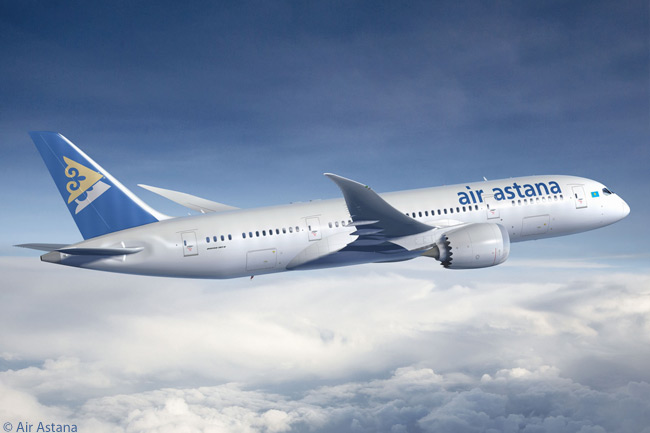 Air Astana, the flag carrier of  Kazakhstan will delay the arrival of its three 787s with the first coming in  2019 instead of 2017. The airline revised this year's 14 percent growth target to zero percent due to deteriorating economic conditions in the country and devaluation of the currency in February.
Launched in 2002, Air Astana operates 63 scheduled domestic and international routes from its main hub, Almaty International Airport, and from two secondary hubs. The airline connects Eastern Europe, the Middle East and Asia. Like all Kazakhstan carriers it had been banned from operating in the European Union but that ban on Air Asatana was lifted in February. The carrier now operates into London. 
Their fleet of 30 planes includes Boeing 757 and 767,  Airbus A319,  A320,  A321 and Embraer 190s. The airline has been listed as one of the world's 20 most profitable airlines in 2010, 2011, and 2012. They had sales of $US967 million in 2013 with a profit of $46 million.
Air Astana is rated by Skytrax the only four Star carrier in Eastern Europe.  At the 2012 and 2013 World Airline Awards,  Air Astana received the award for the Best Airline in Central Asia and India.  I have not flown them. Anyone else comment on their service?
Peter Foster, President since 2005 and a former executive of Cathay Pacific, announced on Thursday,that the carrier is planning an initial public offering in two to three years time. Air Astana is currently 51 percent owned by Samruk Kazyna  (Kazakhstan's national wealth fund)  and 49 percent by BAE Systems.
The airline also has eight options for 787s but has indciated they may not take them up, preferring to see if Boeing updates the 757. Foster stated: "We are hugely interested by increasingly specific indications Boeing is taking a look at a reconstituted 757,".
Currently 159 Boeing 787s have been delivered to 23 airlines. 1031 of the three 787 variants have been ordered in total. I have yet to fly one.
Related Posts
Air New Zealand's new 787-9 takes flight
787 takes to the sky -Who, Where and Why
Scoot crams 375 people into 787
Airlines that vanished in 2013